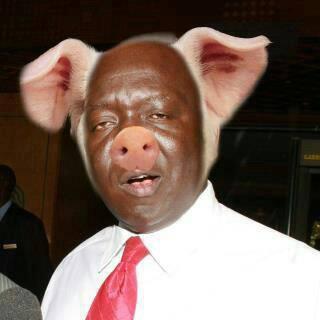 May 2013 ended on a very terrible note for me.
The Kenyan Members of Parliament, a.k.a MPigs, sorry MPs, voted to increase their salaries.
This means that all the pigs that those advocates used in the demonstration to dissuade the politicians from doing the obvious, increase their salaries: ­­­was a regrettable waste.
I hear mbu there will be another protest of a similar nature (read
occupy parliament reloaded
) on 11th June 2013. I hope there will be no pork involved this time around.
I wonder what all that pork is doing on someone's farm. In the first protest,
I am told those animals were taken from and back to a single farm or charity that donated them.
The fact that Kenyans have animals idling away somewhere means that they have a lot of redundant food. And I wonder why they, the animals cannot be
put
to the purpose for which they were created: to be munched (by Ugandans like us). Possibly, our brothers from the Eastern side of the border aren't aware of our need for a "pork donation".
But just a day after the protest one prominent citizen of this country expressed what I believe was the wish of many Ugandans.
Ernest Bazanye
wrote on his Facebook wall "Now that the Kenyans have made their point, can they please hand over the pork!"
I could not agree more with him, besides; this presented the perfect opportunity for us to rekindle the love lost between the two neighboring nations because of that
Island Migingo
. They wanted to take it but it belongs to us. We shall never forgive them though surely the pork would not have been such a terrible consolation.
Let us not forget that it is such small issues like donating
pork
which we often neglect that have the potential to create a greater bond between us and thus
fast track the East African Integration. Such gestures go a long way in demonstrating how much we view one another, across the borders, as brothers and sisters.
Here in Uganda, pork is a delicacy. We would rather eat the pork than waste it on useless political campaigns. Someone gives me statistics here, that there are more Muslims in Kenya and that should explain the wastage but I won't buy into the nonsense. We also have Muslims in Uganda though we don't waste food
j
ust like that.
Plus we are also East Africa's food basket. Anyway,
bottom line: you cannot fight greed by wasting food or using it for the
purpose for which it was not created.
I do not need any money from you for this article you have read and possibly enjoyed but you can support this blog by just clicking here.